GARDEN VILLAS | ANNA O'GORMAN ARCHITECT| PHOTOGRAPHER: RAVENS AT ODDS
2022 GOLD COAST OPEN HOUSE AMBASSADOR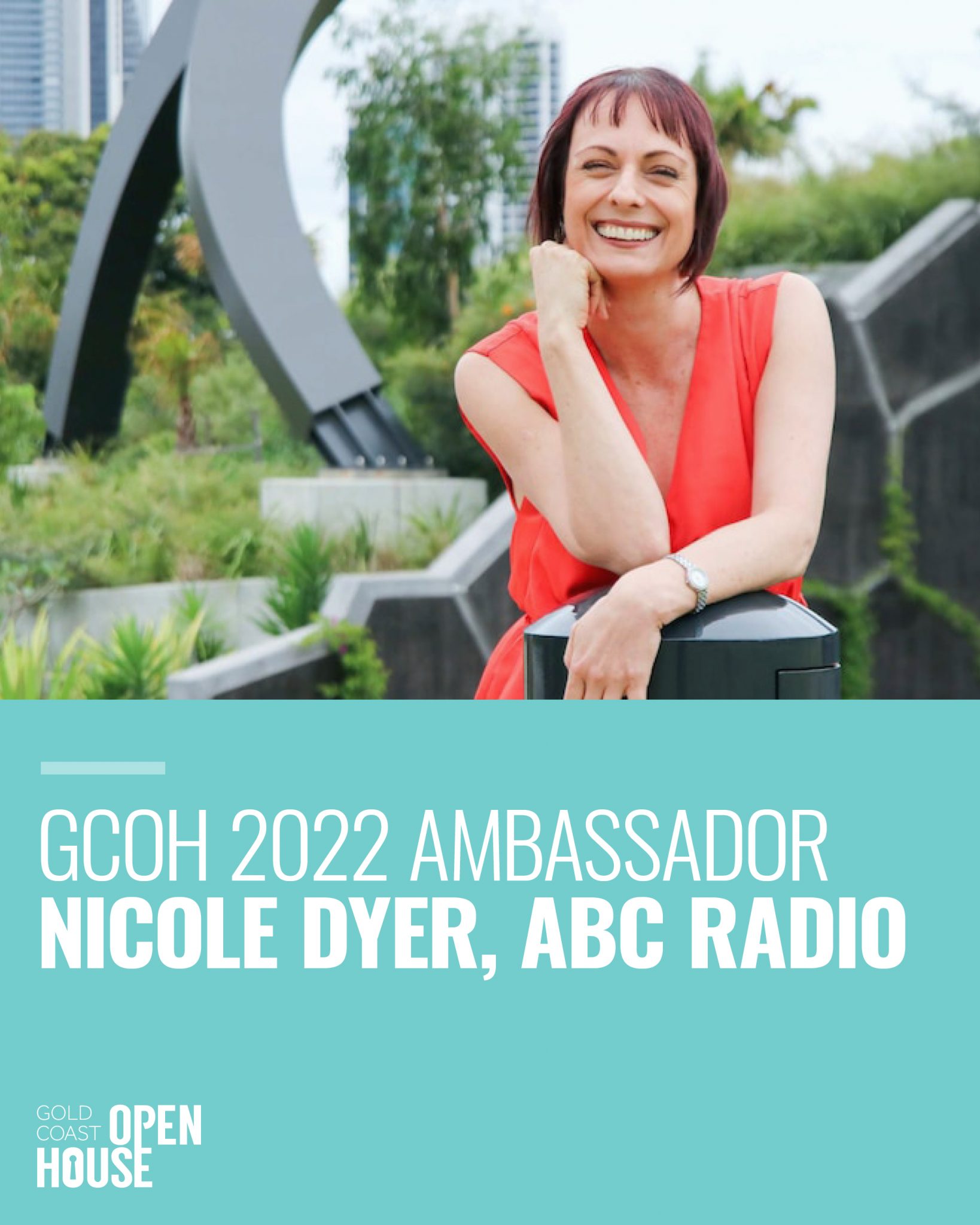 ABC GOLD COAST BREAKFAST RADIO HOST
Nicole Dyer has been working as a broadcaster with ABC Gold Coast for more than 15 years, during which time she has hosted every program on the station.
Prior to this, Nicole worked for 15 years as a radio journalist across Australia, with stints in Melbourne, Sydney, Brisbane, the Sunshine Coast and Townsville. But with it's unique history, colourful personalities and rapidly changing landscape, it was the Gold Coast that won Nicole's heart as her permanent home.
Nicole finds the combination of these factors equally exciting and terrifying as we balance the huge responsibility we have for preserving the 'old Gold Coast' with the needs of one of the fastest growing cities in Australia. She says she can't go past the HOTA (Home of the Arts) outside amphitheatre and Art Gallery as her favourite local architectural success, which has created a cultural and interactive hub for visitors and locals alike.
As the 2022 Gold Coast Open House Ambassador, Nicole is looking forward to promoting the many hidden gems and architectural feats that are usually off limits to the general public in a bid to better understand how we can strike the balance between progress, ingenuity, and our past.
2022 GOLD COAST OPEN HOUSE PATRON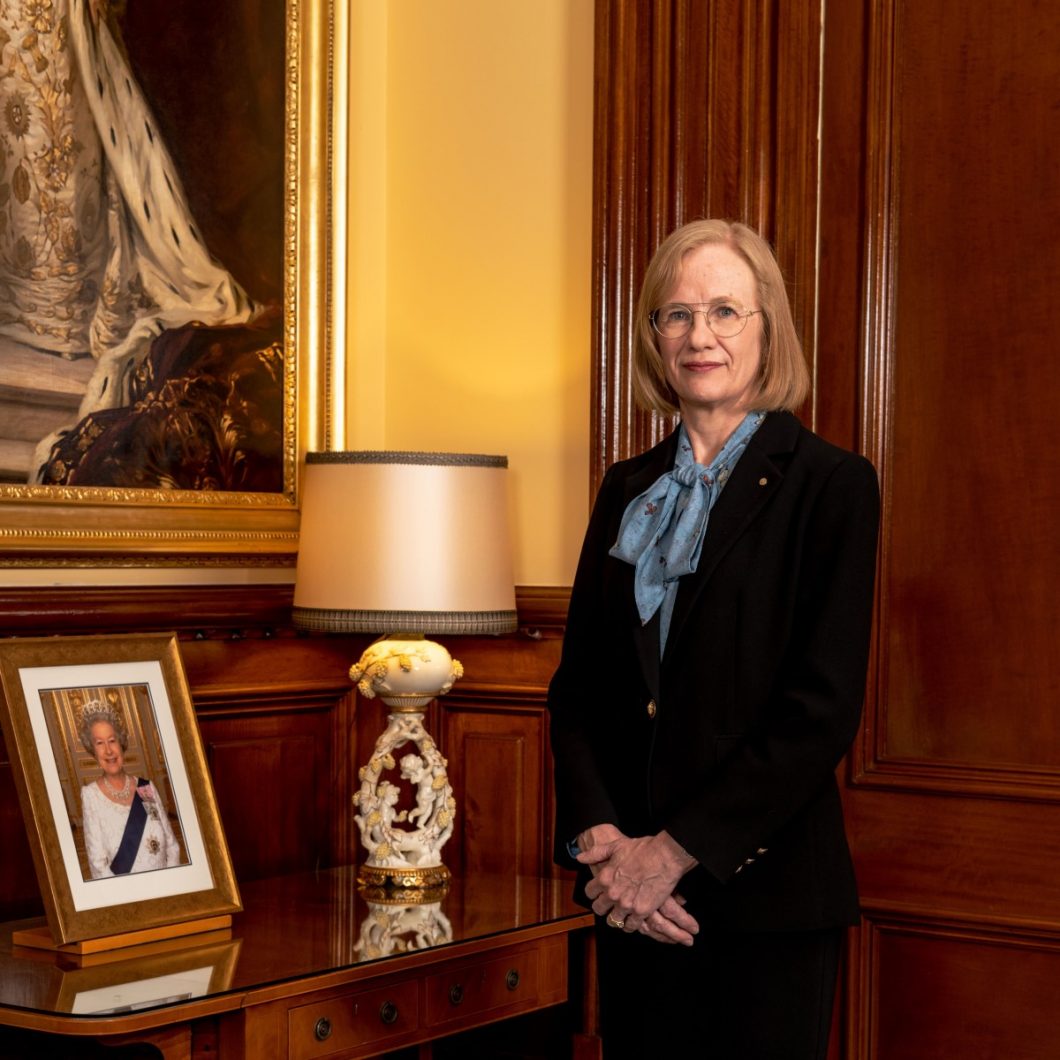 HER EXCELLENCY THE HONOURABLE DR JEANNETTE YOUNG AC PSM
Dr Jeannette Young and her husband, Professor Graeme Nimmo, are proud to serve all Queenslanders.
The Governor was born in Sydney in 1963, eldest daughter of Dr David Young and Mrs Lilly Young. After graduating from Medicine at Sydney University in 1986, she commenced her medical career at Westmead Hospital. During that time, she married, had a daughter, Rebecca, and transitioned to Medical Management, completing a Master of Business Administration at Macquarie University.
After her marriage ended, the Governor – with Rebecca – moved to Queensland in 1994 to become Director of Medical Services at the Rockhampton Hospital. In 1999, she relocated to Brisbane to take up the role of Executive Director of Medical Services at the Princess Alexandra Hospital, and served on various workforce committees, including as Chair of AMWAC (Australian Medical Workforce Advisory Committee)
During this time, the Governor met her second husband, Professor Graeme Nimmo. In March 2000, they were married, and in June 2001 welcomed a daughter, Jane. 
In August 2005, the Governor was appointed to the role of Chief Health Officer for Queensland, with responsibility for leading the State's preventative health and public health agendas, including response to public health emergencies. In January 2020, when the COVID-19 virus outbreak was declared a pandemic, the Governor became the State Health Incident Controller.
During her medical career, Dr Young had specialist qualifications as a Fellow of the Royal Australasian College of Medical Administrators and as a Fellow by Distinction of the Faculty of Public Health of the Royal College of Physicians of the United Kingdom. She was also appointed Fellow of numerous other eminent education and research institutions, has received honorary doctorates from two Queensland Universities, and has received an Australia Day Achievement Medallion, as well as a Public Service Medal.
Her Excellency was sworn-in as the Governor of Queensland on 1 November 2021.
2022 GOLD COAST OPEN HOUSE SUPPORTER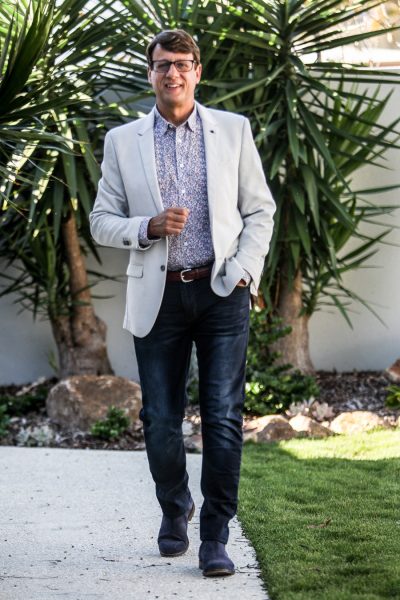 Television Presenter and Real Estate Property Expert
Passionate about property and the World of Real Estate. 25 years as a practising Real Estate Agent. Combined with 15 years in the media industry as an independent Property Expert on Television, published Author, Speaker, Newspaper, online and magazine Columnist. For Andrew it is all about homes, people and the ever evolving markets, it is a little bit of an obsession. Married with three daughters, an Australian since 2005 and a long term Gold Coast resident. Andrew bought his first home at just 18, sold it at 19 and has continued up the property ladder. Invested, renovated, built new, flipped and even managed to move house whilst on holidays overseas.
Andrew's real estate career started in the 1980s, in the West Country of England, moving to central London in the mid 90's and then many years amidst the fast pace of London's financial district of Canary Wharf. Andrew's last practice in the mid 00's was located on the northern Gold Coast, QLD. " I've sold everything from derelict, rural historic buildings, inner city townhouses and units, to country cottages and absolute luxury homes. Those worthy of a magazine shoot to homes where protective clothing and a face mask is essential, just to walk in".
Andrew's unintentional media career commenced in the UK, after being approached to host a new Property TV show. The top rating show format Selling Houses and Selling Houses Abroad was in production for over 6 years. Only 2 years after the family move down under Foxtel signed Andrew to host the new Australian version, now one of their most popular shows the multi award winning Selling Australia is now in the 13th year of production. This success has led to Andrew's additional TV role as Co Host of Love it or List it Australia, already into its third season. Andrew spent many extras as a Property Columnist for NewsCorp nationally and is a regular Speaker or Guest across all aspects of the property industry, including new developments, investment and retirement living.
Andrew is well known for his direct approach, integrity and a rather cheeky, sometimes blunt presentation style. For Andrew Real Estate is a way of life.