Nikolas Strugar is an architectural filmmaker and runs a production company called Ravens At Odds, that specialises in film production, design and branding for the architecture and creative industries.
My career began in architecture before moving into film production. I studied my Master of Architecture at the University of Queensland and worked in a couple of small practices in Brisbane during and after my degree. I've always had an interest in housing and public architecture, particularly issues of density, affordability and community.
Throughout my studies and work I was interested in other creative mediums. In 2011 I started Ravens At Odds and went in pursuit of multidisciplinary projects where I could work across different creative fields. Over this period, I went back to university to study audio production, worked in and out of architectural practices, lived overseas and further explored my interests in photography and film whilst travelling.
In recent years my attention has really turned to filmmaking as I see this as the most effective way to talk about architecture, and to tell stories about people and place.
2020: the year it all began
I started working with Gold Coast Open House in 2020 when Covid first hit, and we were unable to run in person tours. We switched to a digital program that allowed people from all over the world to experience some of the best Gold Coast architecture from their homes.
We realised that filming buildings was a valuable addition to the regular open house program, as well as an archive of Gold Coast architecture and urban life.
For the last two years I've produced and directed the films and digital content for the GCOH program.
2020 was a tough year. 2021 didn't relent either. There were several challenges filming last year's program, in particular dealing with border closures whilst trying to film a couple of projects in the NSW northern rivers region. We got there in the end, with the last couple films completed just days before the 2021 weekend launched!
2022 continued to prove difficult. An unprecedented amount of rain meant filming dates were rescheduled numerous times. Then throw into the mix people falling ill, myself included.
But I don't feel it hindered the process or affected the outcome. I'm very happy with what we captured and the stories we've been able to tell.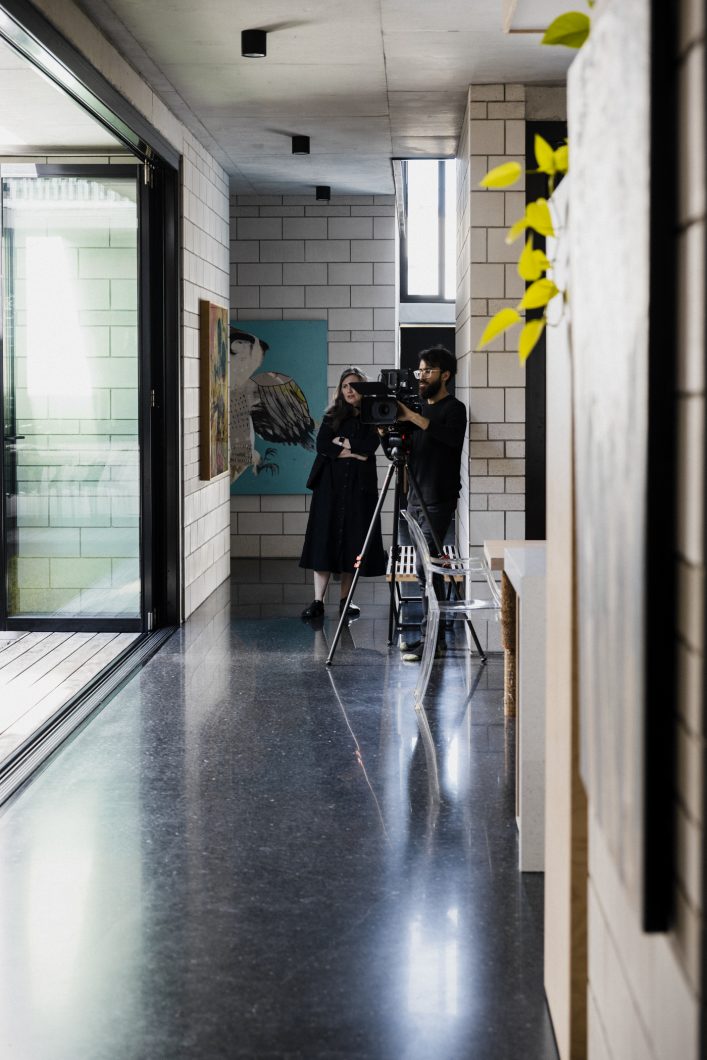 The making of a Gold Coast Open House Film
Apart from filming incredible buildings in some picturesque locations, the highlight for me is sitting down and chatting with the architects for the interviews. These aren't scripted. The discussions we've had cover numerous topics of the design and build but also many other issues that the industry faces such as sustainability and the housing affordability crisis. I've never lost my passion and interest in architecture, particularly its role in housing and city making.
But a one-hour discussion must edit down to a pithy five-minute interview track. I'm very aware of the necessity to cater for short form content on social media, but as a filmmaker and former architect, I also have a responsibility not to over-simplify the narrative. I'm also inclined to push back against the trend of fast-paced, hyped-up media which has become the norm in the industry.
Architecture is slow. Buildings take years to conceive and come to life. The story behind the project is what is truly interesting and that's what these films aim to tell, rather than just showcasing flashy visuals.
But they aren't full length documentaries either. They are shorter than your average feature film so what we show or don't show is crucial.
Rather than filming every corner of a house or building, it's about selecting which aspects best communicate the story: how people interact with public spaces, key moments in an arrival sequence, what it feels like to occupy a living space, a window seat with a view or a detail that exemplifies something of the project's essence.
And of course, something must be left to surprise you on the tours. So, if you really want to find out about a project, be sure to book in for one of the guided or self-guided tours in this year's program.