Culture Coming of Age Tour
Cantala House | Matthew Eagle | Photographer: Christopher Frederick Jones
Five sites from Broadbeach to Southport
Seal sculpture at Convention Centre
Broadbeach
Address: Gold Coast Convention and Exhibition Centre, 2684-2690 Gold Coast Hwy, Broadbeach QLD 4218. Sculpture located in the landscaped area opposite the porte-cochere, close to the Broadbeach North light rail station
Parking: Main Place on street metred parking
Opening hours & access: Exterior access only
The Seal Sculpture was designed and built by Australian artist Leonard George (Len) Shillam out of polished terrazzo in 1954-56. It is historically important in demonstrating the prime holiday destination atmosphere of the Gold Coast in the post war period and the development of Gold Coast's first large-scale hotel, Lennon's Hotel, Broadbeach. It is also an example of post war modern sculpture in Queensland. It has social and cultural significance for locals and tourists as a much photographed icon.
The Seal sculpture was commissioned in 1954 as a water fountain feature for the pool of the Gold Coast's first large resort-hotel, Lennon's Broadbeach Hotel. The hotel was designed by architect Dr Karl Langer. To create the sculpture, a full scale model was shaped in clay and a copper water conduit made to fit. When the artist and architect were satisfied with the shape and surface of the clay model, a plaster mould was formed over it. The clay was then carefully removed through an opening in the base. It was Shillam's first use of casting for such a large sculpture. A terrazzo mix of wet cement, marble chips and silicon sand was hand rammed into the plaster mould with a wooden ram. The copper pipe was held in place until it became supported by the terrazzo mix. When the concrete had hardened, the plaster mould was chipped away in fragments. The surface of the seal was polished by many hours of hand rubbing with carborundum stones and water.
The Seal sculpture was a popular and much photographed feature of the Lennon's Broadbeach Hotel. It was removed in 1982 when the hotel was demolished. It was then placed on a jetty belonging to a riverside restaurant until its disappearance. In 1997 in a united effort between divers from the Bond University Scuba Club and a local diving school, Aqua'nuts, the sculpture was found. The sculpture was retrieved from the river by crane, then sand blasted in order to remove the effects of immersion. A full video of the process was recorded by the Gold Coast Video Camera Club.  The recovery was funded by The Star (Conrad Jupiters) Casino who donated it to the National Trust Queensland. The Broadbeach State Primary School was custodian of the sculpture for many years until it was moved to its current location at the Gold Coast Convention and Exhibition Centre.
The archival image showing the sculpture at Lennon's Broadbeach Hotel during the 1960s has been provided by the Gold Coast Libraries Local Studies Library (photographer unknown).
Wiyung Tchellungnai-najil (Keeper of the Light),
Chris Booth
Address: HOTA Outdoor Precinct, 135 Bundall Rd, Bundall. Sculpture is located on the eastern peninsular between Evandale Lake and the Nerang river, approx. 500m from the new Gallery building.
Parking: HOTA carpark or Chevron Island on-street parking
Opening hours & access: Public parkland. Access via concrete pathway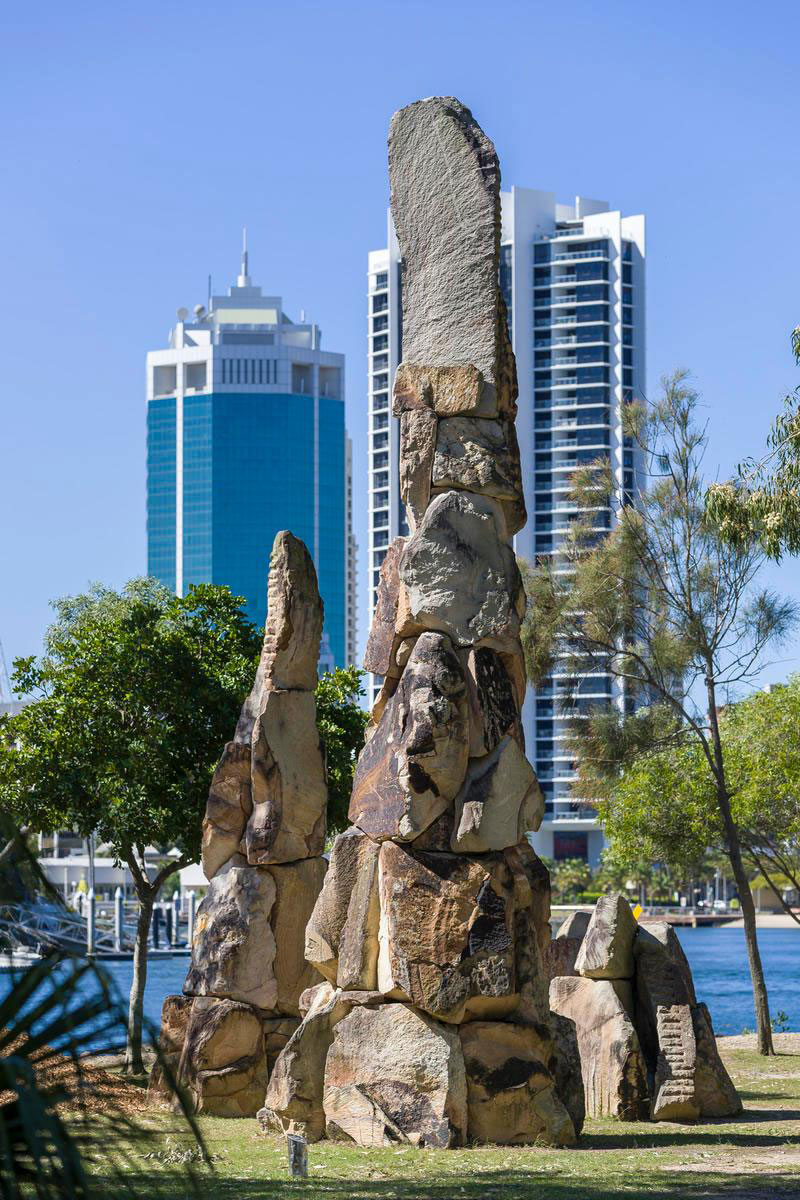 The title Wiyung tchellungnai-najil utilises the Yugambeh language of the traditional families of the Gold Coast region and means Keeper of the light. The sculpture was created by New Zealand artist Chris Booth in consultation with the Yugambeh Museum and Ysola Best, descendent of the Kombumerri people of the Yugambeh region, who dedicated much of her life to researching and documenting her heritage and culture. It tells the story of her grandmother, Jenny Graham, who was the Nerang River Pilot responsible for lighting the river navigation beacons in the early 1900s. These three monumental sandstone pieces represent family, femininity, and the flames of those navigation beacons, and are a reminder of the living cultures of Aboriginal peoples.
This "land art" sculpture is site-specific; inspired by, made from and meaningful to its specific place in the world.  Artist Chris Booth's creative process involves intense observation of the landscape, people, culture, and spirit of each place he works, and this is informed by close consultation with local traditional knowledge custodians. Wiyung tchellungnai-najil was commissioned for the HOTA Gallery Collection and acquired through funds from Patrick Corrigan AM and Gold Coast City Council 1997.
Image Credit
Chris Booth, Wiyung tchellungnai-najil (Keeper of the light) 1997, helidon sandstone, 900 x 600 x 800cm (irregular), Collection, HOTA Gallery.
Acquired through funds from Patrick Corrigan AM and Gold Coast City Council 1997.
Copyright: Image courtesy of the artist. Photography by Pete Waddington.
HOTA (2021), "Educational Resources" webpage accessed 19 August 2021, https://hota.com.au/other-education-resources/
Nerung Ballun (Nerang river) fresh water, salt water,
Judy Watson in collaboration with Elisa Jane Carmichael and Libby Harward
Address: HOTA Gallery, 135 Bundall Rd Bundall. Sculpture is located at the entrance of the new HOTA Gallery, adjacent to the Outdoor Stage.
Parking: HOTA carpark or Chevron Island on-street parking via HOTA green bridge
Opening hours & access: Public parkland. Access via concrete pathway and ramp. Wheelchair accessible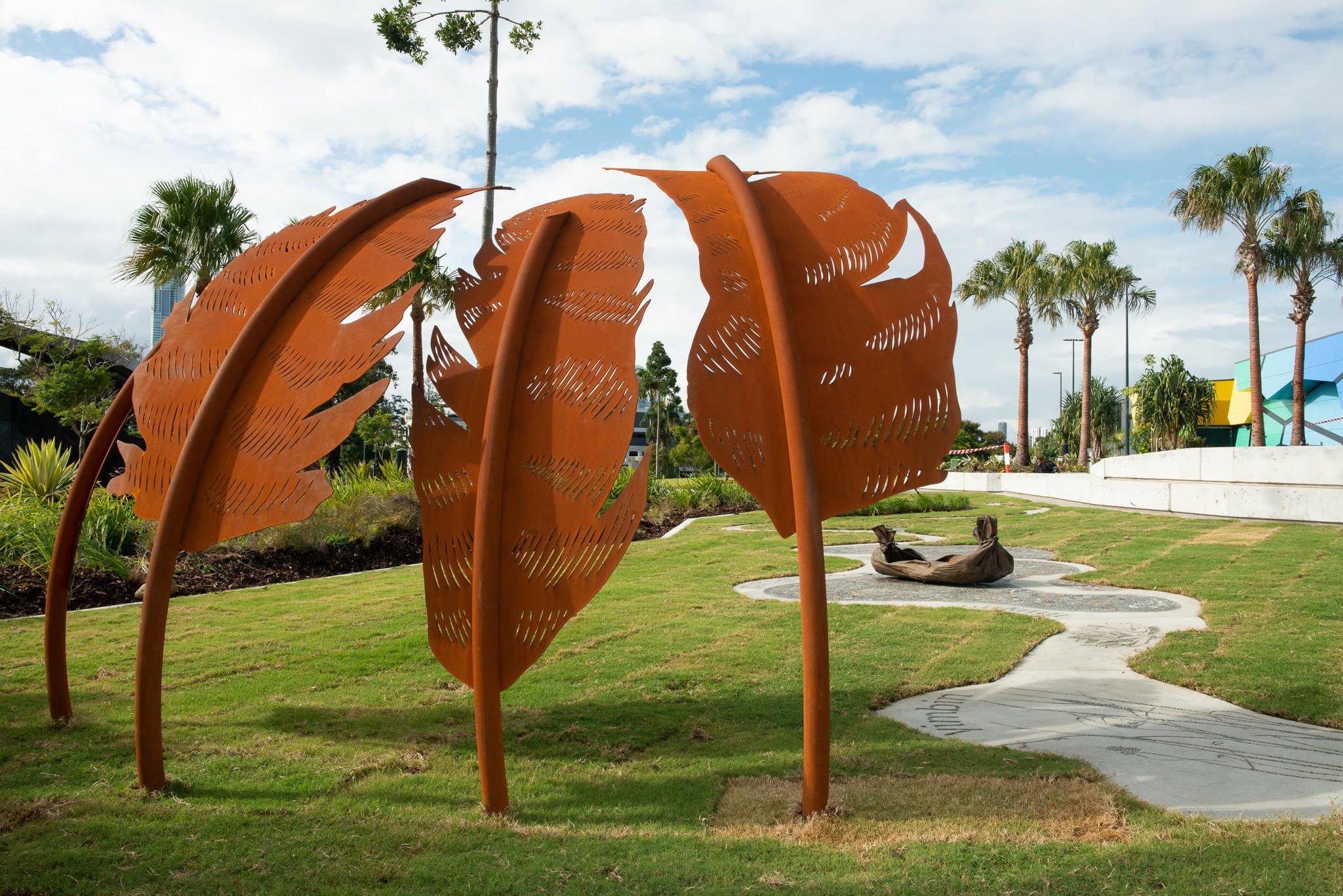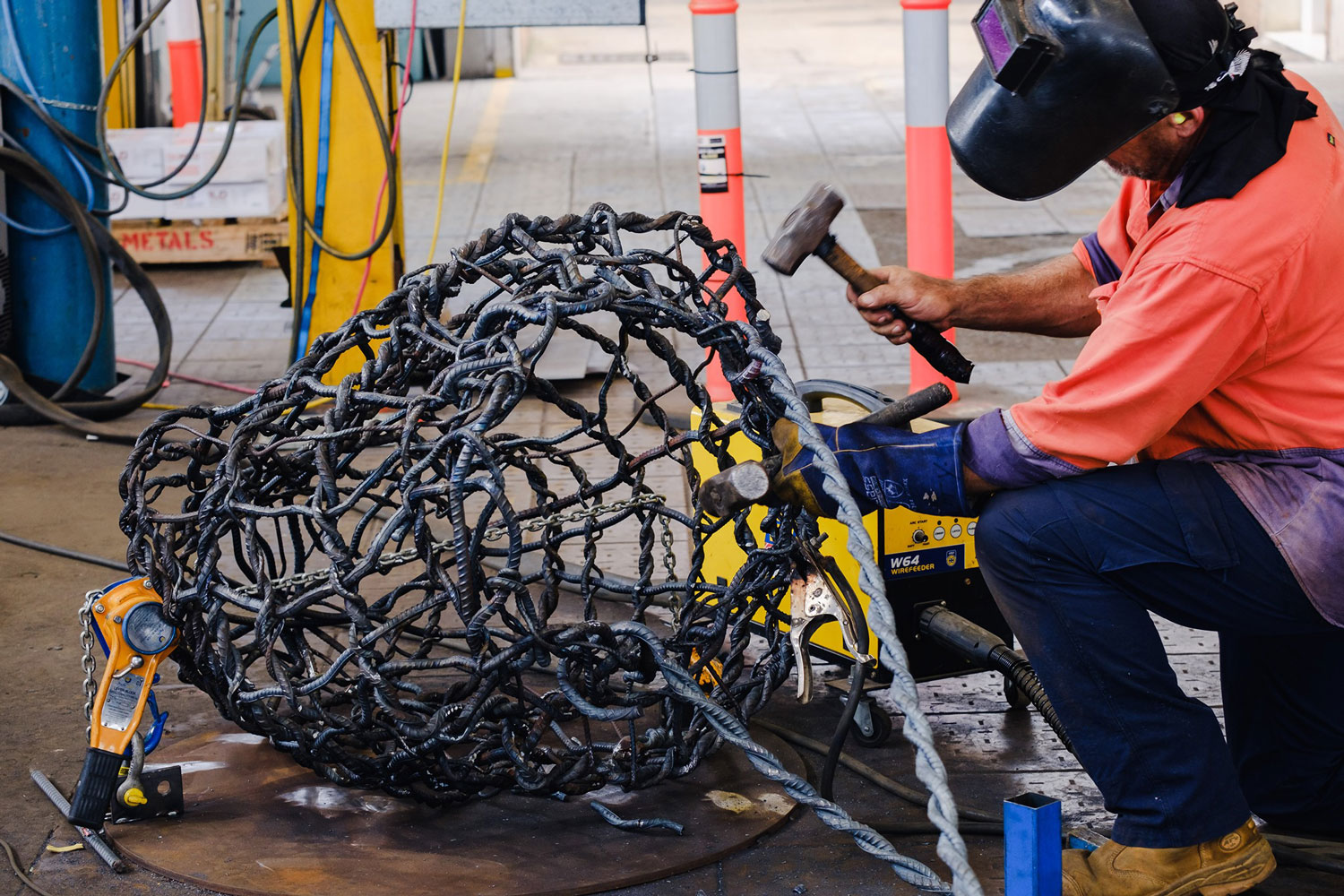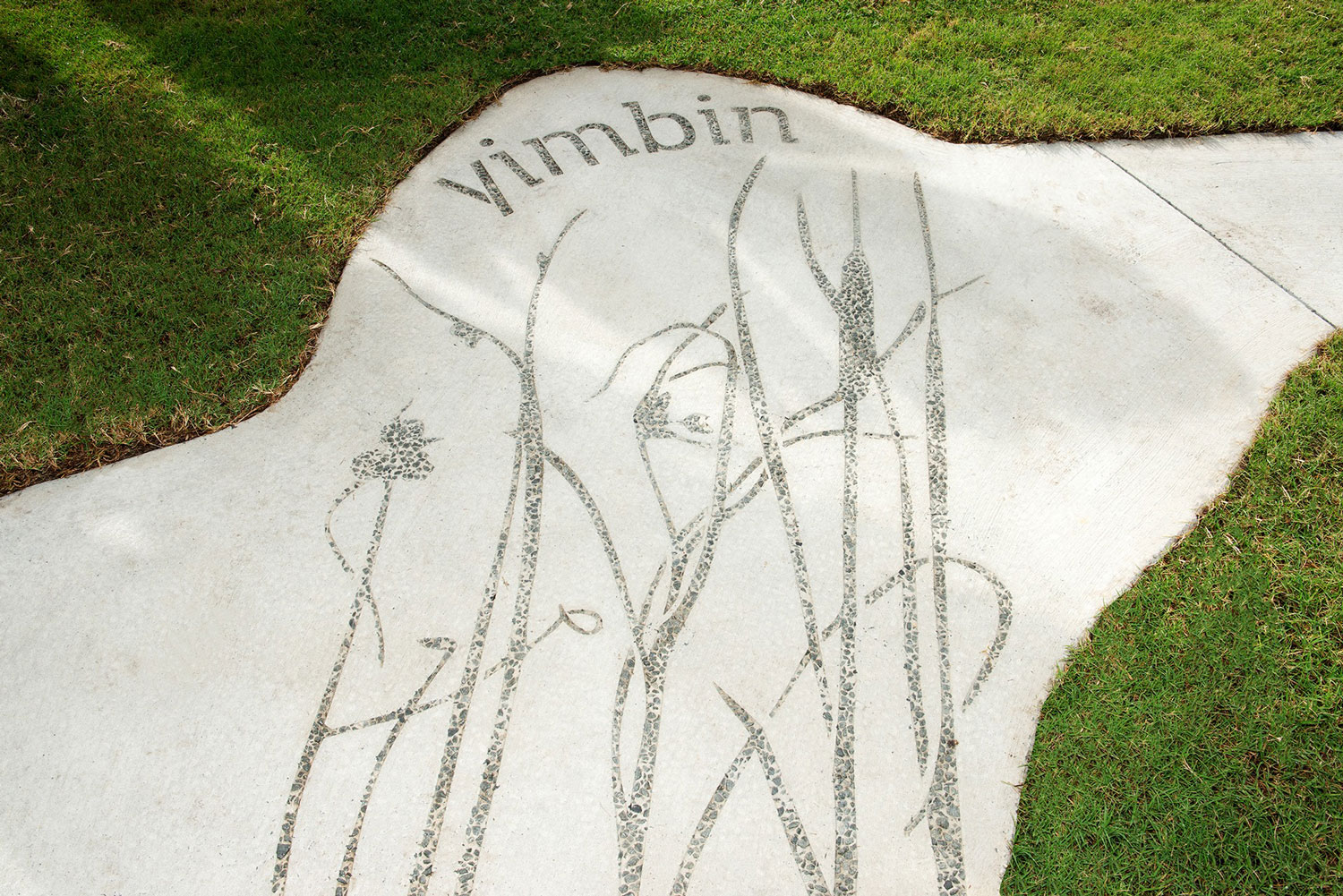 Judy Watson, Libby Harward and Elisa Jane Carmichael. Nerang Ballun (Nerang river) fresh water, salt water (2021) Collection, HOTA Gallery.
Commissioned to coincide with the Gallery opening 2021 
An incredible outdoor work, created by esteemed Indigenous artist Judy Watson, called nerung ballun (Nerang River), freshwater, saltwater commemorates the Aboriginal culture that lies within the ground, the sky and the waterways found throughout the HOTA precinct.
The concrete form represents the nerung ballun or Nerang River. Watson collaborated with Michael Aird, Aboriginal photographer and anthropologist, to source original mappings of the nerung ballun. These maps were used as a blueprint to shape this concrete form as a topographical map depicting the nerung ballun before European settlement. This waterway encompasses vital cultural knowledges, oral histories and stories that connect Freshwater people and Saltwater people throughout the Gold Coast hinterland and coastal regions.
Watson has embedded the river form with oyster, eugarie and mussel shells to represent middens. Middens are the remains of shellfish meals, such as oysters, that were consumed and discarded, forming mounds of shell deposits sourced from the sea and waterways. The jasper stones found throughout the river form were collected and generously donated, then dispersed across the concrete by Aboriginal artefact maker Rick Roser. The mibin (wedge-tail eagle) feathers represent shelter and protection.
The piccabeen palm basket and dillybag sculptures are a collaboration with Quandamooka artists Elisa Jane Carmichael and Libby Harward. The basket and bag were originally made on the 2017 South Stradbroke Indigenous Artist Camp (Cross Currents: From Island to Mainland) – a five-day placement where emerging and established local Indigenous artists worked alongside leading artists to create site-specific works. The upscaled cast bronze piccabeen basket and large hand-forged twisted dillybag represent eternal standing presences for the people who were and are still here, forever carrying the stories and histories of their original makers.
Through community consultation, these key sculptural elements call for a place of ceremony, a place of gathering, a place of education and knowledge, a way for cultural activities and a celebration of the dynamism of Aboriginal cultures.
Double-faced Avatar with blue figure
Ramesh Mario Nithiyendran
Address: HOTA Gallery, 135 Bundall Rd Bundall. Sculpture is located at the western entry, lower ground level of the new HOTA Gallery.
Parking: HOTA carpark or Chevron Island on-street parking via HOTA green bridge
Opening hours & access: Exterior access. Access via concrete pathway and ramp. Wheelchair accessible
His first ambitious work in the public domain, contemporary artist Ramesh Mario Nithiyendran has created a monumental six-metre high, double-sided sculpture which aims to provoke conversation by purposefully challenging the serious form of statuary that we are used to seeing in public spaces. This is Nithiyendran's largest sculpture to date.
Holding a smiling neon companion and standing on a geometric plinth, this scary, bold and vibrant figure both welcomes visitors inside the gallery with outstretched arms but also scares away negative spirits.
To create this sculpture, the body was firstly modelled by the artist's hands in raw clay; a material connecting to diverse global cultures and histories. Polystyrene components, shells and rubber snakes were then integrated into the raw clay form. This body was then cast in wax and transformed into bronze. The artist has combined this with a range of materials including concrete, neon and fibreglass to create a multi-coloured avatar reflecting the vibrancy of the HOTA Gallery building.
Known for his challenging and innovative references of ideas of monumentality and idolatry, Nithiyendran's new work is an extension and consolidation of his practice, continuing the artist's interest in the authority and function of large-scale figurative sculptures that frame the entrances of various architectural forms and civic spaces across cultures and centuries. This work was informed by the artist's research into the cultural significance of the role of a guardian figure in many different cultures across the Asia-Pacific region.
Street art
– China Town, Southport
Addresses: "Ichiban Lane" (between 84 & 86 Scarborough St), Davison Lane (between Davenport St & Young St) and Regent Lane (corner Davenport St), Southport
Parking: Australia Fair Shopping Centre (free). Mal Burke Carpark, 13 Hinze St Southport ($2.10 per hour)
Opening hours & access: Exterior access only. Public laneways.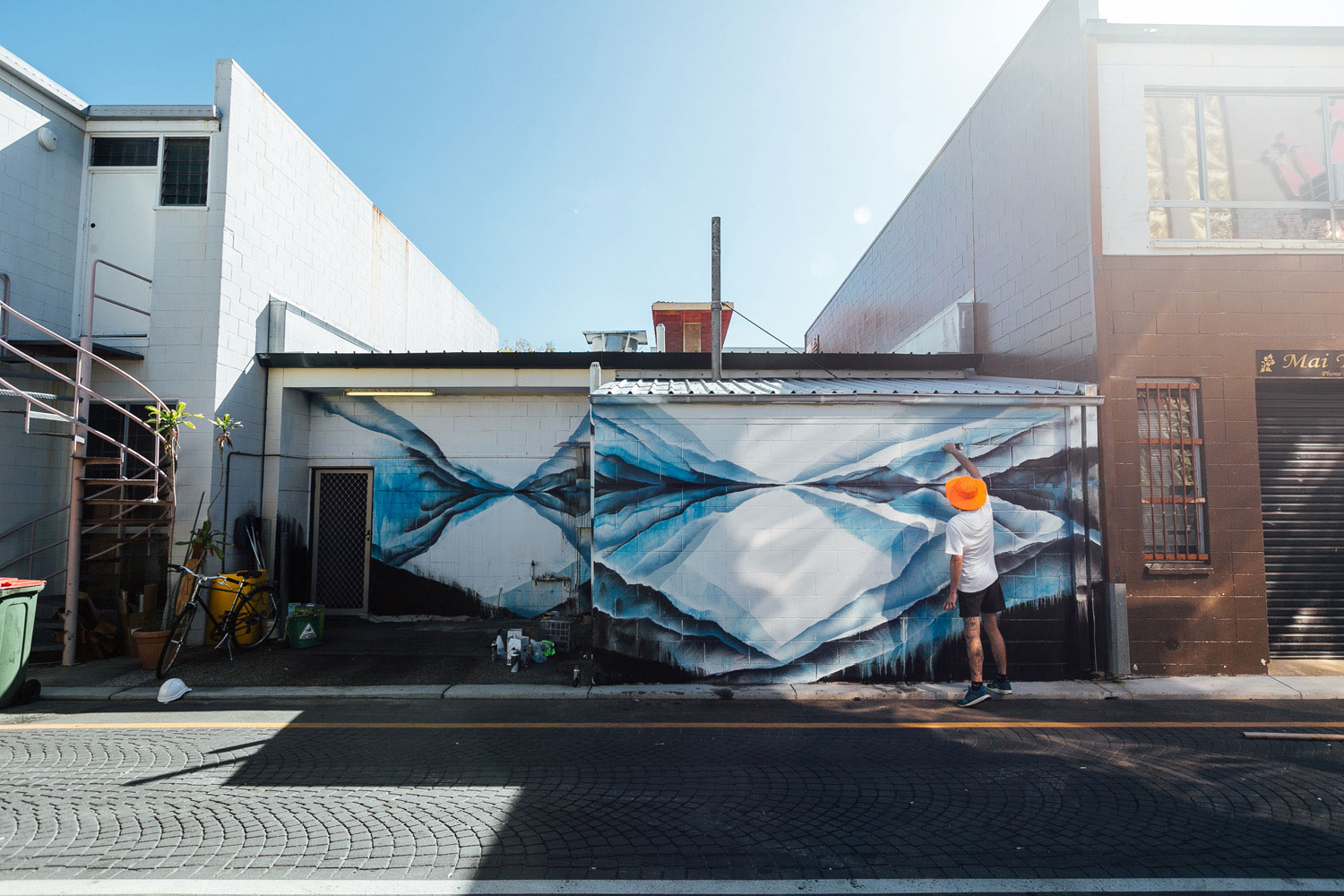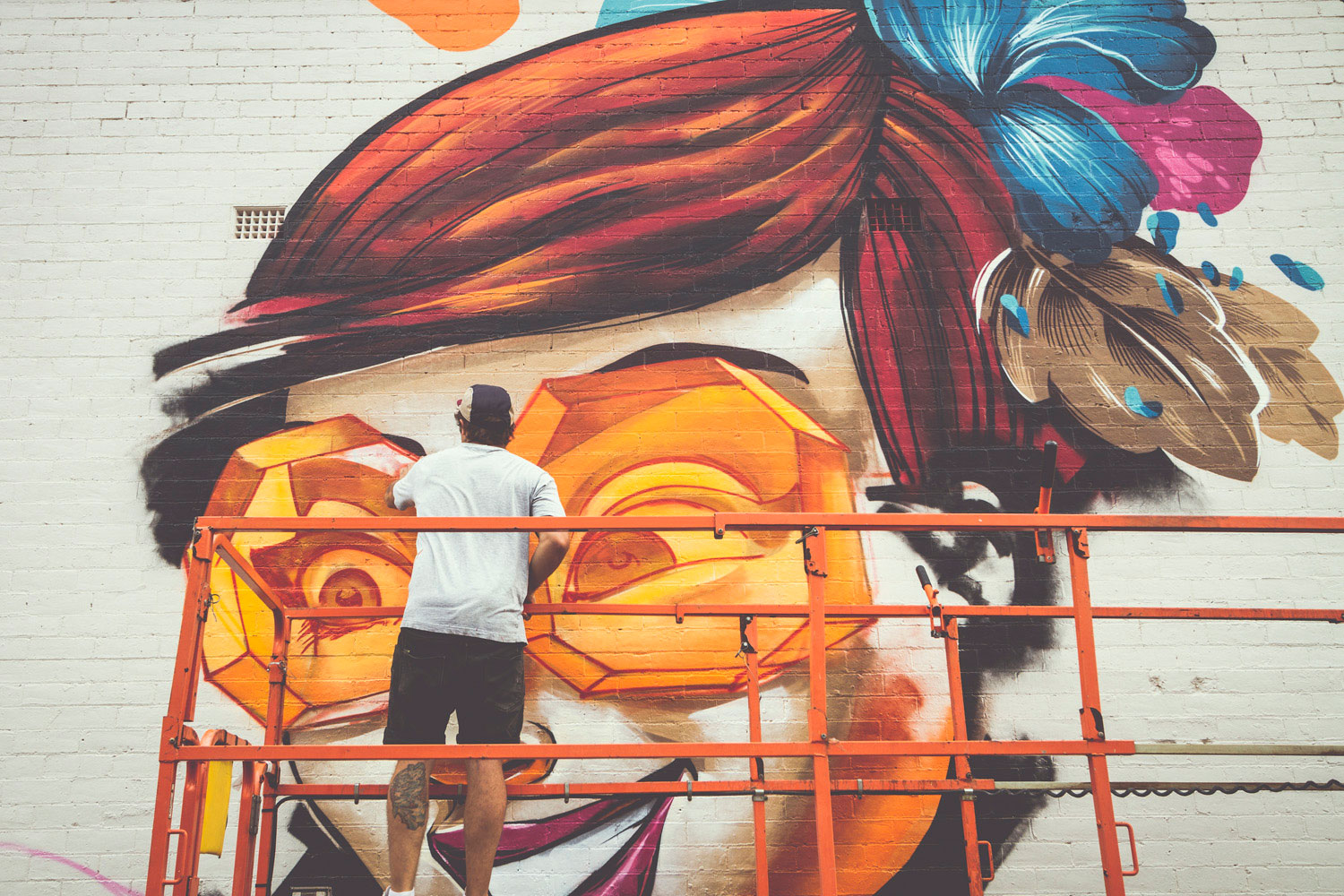 The street art pieces along Davison Lane and "Ichiban Lane" were created as part of placemaking initiatives by Golden Walls and City of Gold Coast.  
Golden Walls is an art-based initiative created by Gold Coast branding and design agency – 40/40 CREATIVE®. The idea of Golden Walls is to connect artists and businesses to form a relationship to produce memorable and inspiring artwork in the public realm.
In Davison Lane, Golden Walls collaborated with City of Gold Coast to assist with numerous public art installations to help improve the recent streetscape upgrades in the connecting laneways of Southport's Chinatown. The task was to curate a series of murals throughout the laneways that depict a variety of Asian cultures within the community. Davison Lane has 6 artworks in total. Artists include Sofles, John Kaye and Shida.  Additional artworks have been created along "Ichiban Lane" off Scarborough St.  Artists include Sofles, John Kaye and a Shida and Twoone collaboration.
There is a further mural located on the Corner of Regent Lane and Davenport St. Art-work agency collaborated with Keil Tillman Creative Co. and Work & Co. to create this gateway art piece in consultation with the local Chinatown business community. The design draws upon traditional Chinese script, contemporary illustration techniques and colours from the local context.